NEVER MISS A PROMO CODE!
YOU WILL FIND EVERY VALID PROMO CODES AND DISCOUNTS
Previous offers at Kiehl's
Best Shopping with Kiehl's Promo Codes and Discounts
Kiehl's is now a popular skincare brand. It was established in 1851 as an old-world spot by John Kiehl, who began as a homeopathic pharmacy located in New York City's East Village at the 3rd Avenue and 13th Street. Since the 1980s, Jami Morse Heidegger, Aaron's daughter, operated Kiehl's and sold their products through high-end retail stores, Relying on word of mouth and extensive free samples - and gifts to market Kiehl's products, the business has the revenue reached $40 million. In April 2000, L'Oréal, the French beauty and cosmetics company acquired Kiehl's for between $100–$150 million. With increasing demand, L'Oréal stated it planned "to increase the brand's presence but maintain it as a luxury line rather than a mass-market one.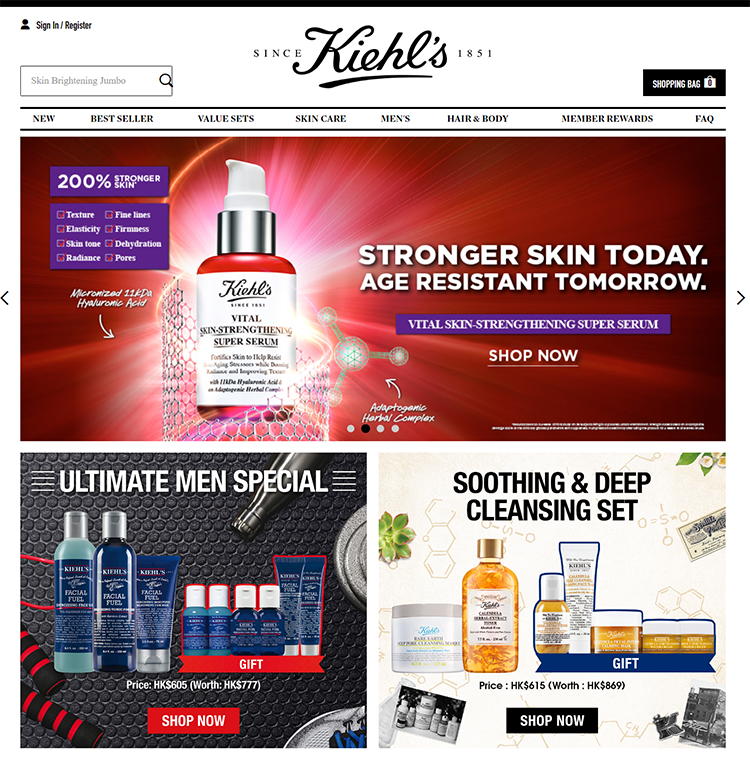 In the online store of Kiehl's HK, after selecting the items, you can proceed by pressing the button SHOPPING BAG on the right corner at the top of the website. Items will be added to the shopping bag, and you can insert PROMO CODE at the designated field on the right-hand side. To confirm the application of the promo code, you need to SIGN IN TO USE OFFER.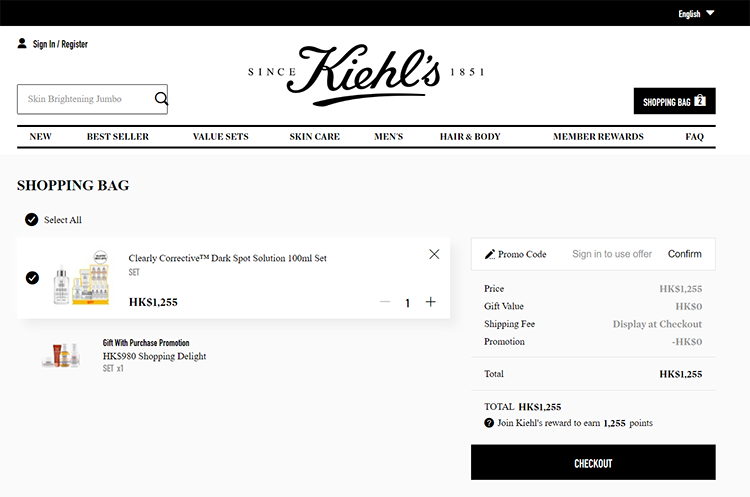 Shipping information:
• Kiehl's HK offers a home delivery service. Selecting 'home delivery,' Kiehl's HK will deliver the order to your address at checkout. So far, they only deliver to Hong Kong and Macau Special Administrative Regions.
• There is free shipping with every order over HK$500 (after discount). HK$70 delivery fee will be charged for orders below HK$500 (after discount). Delivery to Tung Chung and Ma Wan will have an extra HK$ 40. Normally, the delivery to the shipping address in Hong Kong SAR and Macau SAR is in 5 days and seven days, respectively. It takes 3-5 days more for Tung Chung and Ma Wan. Re-shipment may be arranged, and the second attempt will incur an additional charge to be paid within 14 days. On the 'My Order' page, when it is indicated as 'Transaction completed,' the shipment has arrived at the provided shipping address.
• You can also choose to pick it up in stores in Hong Kong SAR. Collection date and store cannot be changed. Pick-up confirmation is via SMS notification. There you are arranged 14 days to pick up the orders before expiry without refund.
• Considering restrictions such as quarantine stays due to COVID-19, the hotel delivery service is also available in compliance with the hotel's internal regulations. A refund can be arranged if there are not any collection arrangements.

- The method of payment includes credit cards (MasterCard, Visa, and American Express). The TOTAL payment price is the one displayed on the website, including the shipping price.
- By joining Kiehl's HK Customer Registry, you will receive each month of Kiehl's HK activities, new product introductions, timely promotions, and other special announcements. For contact with their customer care team, you can send feedback in our Contact Us Form or contact their customer service hotline at (852) 3180 1651 or email at kiehls@hk.loreal.com.