Earn up to 1,000 Asia Miles and free delivery
-

-In this deal, you can earn 500 Asia miles for 6-bottles. You can earn 1,000 Asian miles for 12-bottles. -Minimum spending applies: HKD $500 to $10,000. -When you buy 12-bottle Awarded French Reds Case, the sales price is HKD999 (worth HKD1,948).When you buy 6-bottle Premium Gold European Showcase, the sales price is HKD999 (worth HKD1,794) you buy 12-bottle Medal-winning Whites & Rosés Case, the sales price is HKD999 (worth HKD1,988) Order any case and you will earn 1,000 Asia Miles per case, plus FREE delivery & 100% Money-back Guarantee! -To get the deal, you need to quote your Asia Miles membership number when ordering. The Asia Miles points will be rewarded 6-8 weeks upon delivery of wines.
NEVER MISS A PROMO CODE!
YOU WILL FIND EVERY VALID PROMO CODES AND DISCOUNTS
Direct Wines Frequently Asked question (FAQs)
How to use a Direct Wines Hk Coupon
About Direct Wines
My couponcodes.hk will let you know the update of the promo codes if you subscribe the newsletters. The redemption process is simple by just entering the voucher code into the box at the payment screen and then clicking on 'Apply'. Directwines-HK accept Visa, Mastercard and American Express for payment.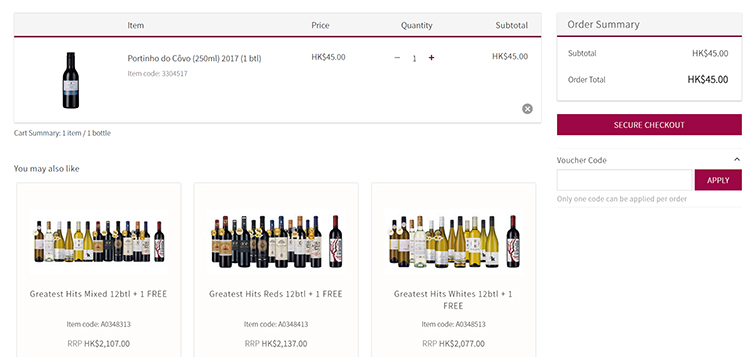 Customer Infos
Chairman Tony Laithwaite founded the company. Tony was recently called "the greatest wine merchant on the planet" in the British press and made a Chevalier du Merite Agricole by the French government.
Laithwaites Direct Wines-HK is part of the Laithwaites Wine group started by wine merchant Tony Laithwaite in 1969. They annually deliver wine to around 1,000,000 customers internationally in Australia, United States, Switzerland, Germany, India, Hong Kong, and Taiwan, with many other locations. Their international partners include The Wall Street Journal, London's Sunday Times, Zagat, British Airways Executive Club, and HSBC. To date, their offices in Hong Kong serve over 15,000 customers.
The company has become one of the world's largest home-delivery wine companies, winning prestigious titles in the industry. Being 'the Oscars of wine' in the annual International Wine Challenge (IWC), its award goes to Laithwaite's Wine as the Merchant of the Year 2015 and IWC Online Retailer of 2015. Apart from buying wines from established estates, Laithwaites Wine also makes small parcels at their wineries, Le Chai au Quai and Redheads Wine Studio in South Australia.

Save More on Last Offers Section
If a wine is faulty or you do not enjoy a particular label within three months of delivery, the unopened bottle(s) will be collected. Refund and replacement will be arranged subject to certain specified conditions. Their contact for the service after payment is by phone at 8120 3826 or write to their message box online.
You can free shipping from Directwines-HK if you purchase more than six bottles (750ml and over) or more or the total cost over HK$800. HK$100 is charged for the delivery otherwise. Delivery time is usually within 24 hours to all addresses in Hong Kong, Kowloon, and New Territories. Outlying islands including Lamma Island, Cheung Chau, and Lantau Island (except Tung Chung, Chek Lap Kok, and Discovery Bay) or restricted areas are not included. International delivery is also not available.

Directwines-HK has a section called Latest Offers. This program gives you access to Bestsellers, Special Offers, Wine of the Month, and Weekly Flash Sale, where you can get first-hand updates as discount codes for shopping within the validity period.
Direct Wines Discount Codes You Just Missed